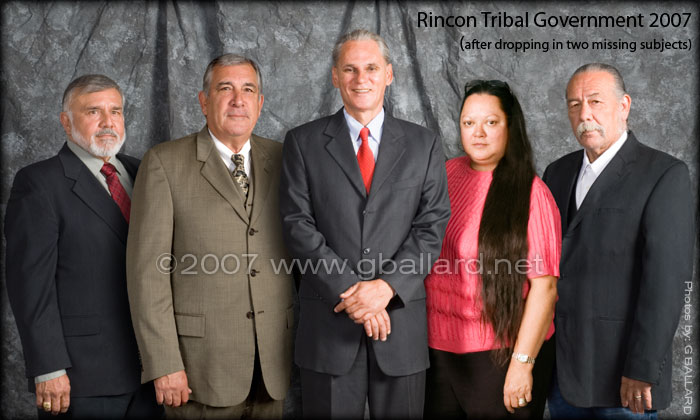 RINCON TRIBAL COUNCIL Portraits
The Rincon Tribal Council posed for professional photographer Gary Ballard in 2005 and 2007.
In the above 2007 Rincon picture, two of the tribe's council members were unable to stand for the group photo, so Gary Ballard shot the Rincon chairman and two council men and later returned to photograph the remaining portrait subjects, but only one subject made the reshoot session.
ROLLOVER the original photo: Hold your mouse curser over the top photo.
Ballard then took the councilman's photo standing alone, and cut the councilwoman from the group photo Ballad shot in 2005. He then used Photoshop to cut the missing subjects out of the other photos and pasted them back in this group photo, making one final group portrait.
The Rincon Tribal Council govern the sovereign Rincon San Luiseño Band of Mission Indians, SOVEREIGN TRIBAL INDIAN GOVERNMENT on the Rincon Indian Reservation in San Diego County, and the tribal members own the successful HARRAH'S RINCON CASINO AND RESORT in Valley Center, CA.
For a complete information about Indian gambling casinos please see the free SAN DIEGO INDIAN CASINO DIRECTORY.
SAN DIEGO INDIAN CASINO MAP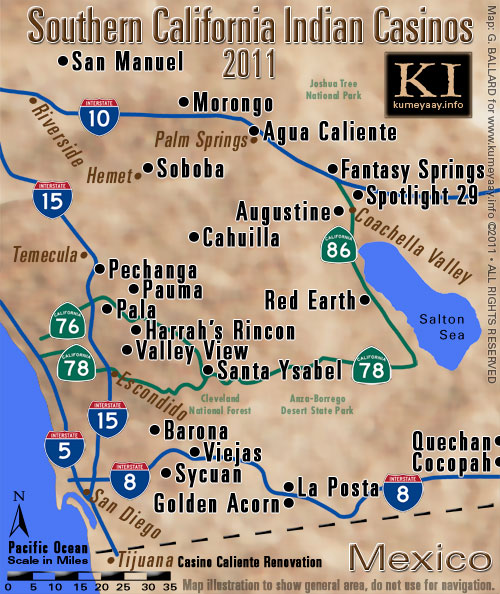 LOCATOR MAP GUIDE OF THE BEST SAN DIEGO CASINOS.
To learn more information about the aboriginal Native American Indians of San Diego County, Souther California.