INDIAN NAMING CEREMONY
NATIVE AMERICAN NAMING CEREMONY — Kumeyaay medicine man Ron Christman, using Native American Prayer Feathers, smuges (fans smoking California white sage onto) 10–month–old baby girl wearing an authentic white buckskin baby regalia Coralynn Jade Bradley during a traditional California Indian naming ceremony.
Coralynn's new given traditional Kumeyaay name is "Sweet Sage" (pronounced Pish–Ty–Co–Muilk in Kumeyaay). The naming cermony took place on September 6th, 2002 during the annual Sycuan Powwow.
CALIFORNIA WHITE SAGE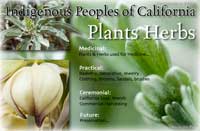 NATIVE AMERICAN INDIGENOUS PLANTS & HERBS Ethnobotany of Southern California Indians of San Diego County, features information and facts about California white sage used in smudging ceremony.
Photo by G. Ballard, San Diego