CREATIVE Photoshop Poster Design
PROFESSIONAL PHOTOSHOP POSTER DESIGN — Here's an original G. BALLARD design spin on famous Homeland Security and Fighting Terrorism Since 1492 Geronimo poster headlines. The homeland security poster layout was done completely in Adobe Photoshop.
See G. BALLARD's original in-depth GERONIMO RESEARCH PORTAL, including high resolution original 1800s Geronimo historical photos by C.S. Fly, professionally restored in Photoshop with fully-researched caption information, disclaimer, quotes, and best articles on the Internet about Geronimo and Chiricahua-Mescalero Apache tribal history.

HOMELAND SECURITY POSTER FOR SALE:
G. BALLARD design studio can make commercial-grade fine-art poster prints of this Photoshop layout for sale. If you want information about how to buy a high-end archival poster print, please EMAIL G. BALLARD.
RECOMMENDED PRINT SIZES:
14x18 inches at $75
20x24" at $125
24x32" at $175
44x52" (and larger, call)
plus shipping and handling and any applicable taxes.
CUSTOM LAYOUTS: I can re-design the layout to fit custom frame sizes.
The below detail is how the "Actual Pixels" look on an 18x24-inch print — archival heat mounting is available on black Gator board, or museum-grade framing with Rag mattes and UV non-glare glass.

I am a commercial imaging expert and this is the best scan I could get of an original photograph. I am very happy with it and it looks quite impressive even at the larger print sizes.
I am set up in-house to print on an 8-color "Epson 7880" archival printer and print on professional "Epson Premium Luster" photo paper — this combination is very tough (I've soaked prints in water overnight and dried them off the next day with no color or water damage).
HOW LONG WILL THESE PRINTS LAST:
Industry professionals speculate the color on these prints will last 100-plus years with normal care (framed behind glass and out of direct sunlight, away from excessive heat and humidity).
GUARANTEE:
I know what I am doing here and believe you will love your poster print (because I love my framed print), so your purchase is completely guaranteed and may be returned for any reason for one week after you receive it for a full refund as long as it is received here undamaged.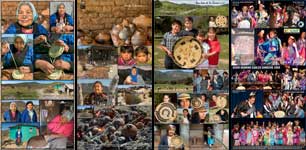 CLICK on poster thumbnails to view gallery of high-resolution professional Photoshop color posters.
COPYRIGHT NOTICE:
You are welcome to download and print the above "Homeland Security" poster file for personal and educational use — it is a lower print resolution (144 ppi) at 5x7 print size — it will become blurry at 8x10 and larger, but is good and sharp at the released 5x7 print size. Simply right+click on the poster image and Save Image to Desktop.
ABOUT THE PERSON WHO PRODUCED THIS WEB PAGE:
Professional Photoshop design and writing by Gary G. Ballard, San Diego, California.
Gary Ballard is a professional PHOTOJOURNALIST | WEBMASTER | BLOG MASTER | SEARCH ENGINE OPTIMIZATION SEO WRITER who specializes in creating high-quality original creative content that grabs attention and writing that dominates search engine traffic.
Adobe® Photoshop® are registered trademarks of Adobe Systems Incorporated.