PROFESSIONAL Event Photography San Diego Photographer Multimedia Photojournalist, Conference Photography
GARY G. BALLARD is a seasoned San Diego-based professional commercial photographer in San Diego who specializes in corporate event photography at first-rate preferred locations like San Diego Convention Center, Horton Grand Hotel, San Diego Zoo, Hilton San Diego Gaslamp Quarter, Hotel Bel-Air, Manchester Grand Hyatt San Diego, Bristol Hotel San Diego, Westin Gaslamp Quarter, Embassy Suites San Diego Bay - Downtown, Gaslamp Plaza Suites, The W, Hotel Ramada Inn & Suites, San Diego Marriott Hotel and Marina, Wyndham, Hard Rock Hotel, Hotel del Coronado, Sheraton La Jolla Hotel, La Valencia Hotel, in such cities as San Diego, La Jolla, Los Angeles, New Orleans, San Francisco, New York, Hollywood.
STILL PHOTOGRAPHY | PHOTOJOURNALISM | EXECUTIVE PORTRAITURE | LIVE WEB BLOGGING | RUSH DVD PRODUCTION | PHOTOSHOP® | WIDE-FORMAT EPSON PRINTING SERVICES | SD-HD VIDEO | Mac WORKSTATION RENTALS


I 've got great natural instincts for this type of work and more than 20 years daily work experience directing people for photographs, plus a wealth of expert multimedia creative services — if you need a consummate professional, please call me:

GARY G. BALLARD
G. BALLARD RESUME | PHOTOGRAPHY PORTFOLIOS
Expert professional creative services: Still and video photography, project consulting, printing, Web publishing, graphic design, DVD authoring; publishing expertise by daily use of OS-X, Final Cut Pro®, DVD Studio Pro®, QuickTime®, Photoshop®, GoLive®-Dreamweaver®, Epson®, InDesign®, Acrobat®.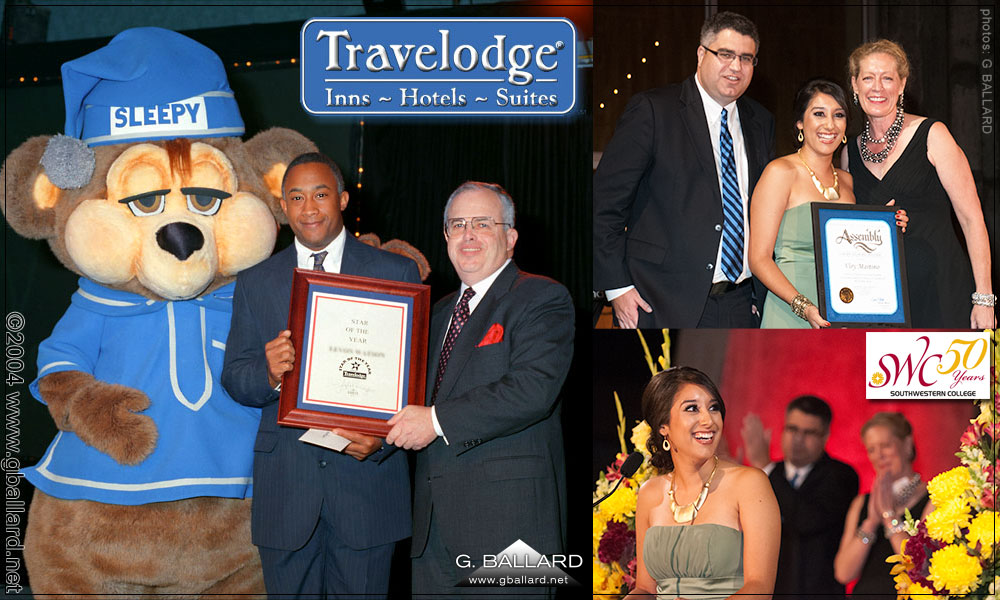 Professional awards photography in San Diego. California.


Forte Hotels International President/CEO (center) is posed with Travelodge International executives and franchise owners during a San Diego convention.Experienced coverage includes: Keynote Speakers, Awards, Groups, Workshops, Studio Portraiture On Location, Press Releases, Live Web Blogging, VIP Meetings, Breakout Sessions, Expos, Exhibitor Booths, Vendors, Franchise Owners, Breakfast, Luncheon, Formal Dinner, Parties, Party Candids.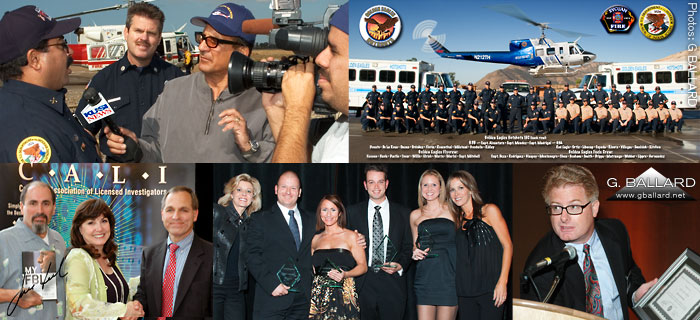 A Syracuse University photojournalism major, GARY BALLARD is an experienced interviewer and writer for corporate communications, company Web blogs. Gary Ballard has the raw "street instincts" and corporate etiquette to blend into any environment and make the shots happen on a world-class photographer level.


COMMERCIAL PORTRAIT ARTIST Studio on location to get those important studio and environmental company portraits produced, optimized, retouched, printed, packaged and ready for immediate release.
REAL-TIME LIVE-EVENT WEB BLOGGING


LIVE EVENT BLOGGING provide high-end Apple® Macintosh® workstations in hotel convention centers, provide expert professional Web blogging services on our Internet servers.


DVD VIDEO PORTFOLIO
RUSH DEADLINE DRIVEN: Gary Ballard provides all the proven experience and expertise needed to script, shoot stills, SD, HDV video, edit and burn to Standard Definition SD and High Definition Video HDV Blu-ray DVD.
Proficient in most aspects of multi-media production, including motion picture HD video, still photography, ENG, journalism, Photoshop®, Final Cut Pro®, Compressor®, QuickTime®, DVD Studio Pro®, authoring process to final DVD.
Editing still photographs to produce slide shows in DVD format are a studio specialty.
G. BALLARD is a well-known famous commercial-grade Photoshop® artist, graphic designer who has always specialized in making corporate executives look their best — every picture and graphic you see on the G. BALLARD websites are the result Gary Ballard's personal Photoshop® work and creative design.
G. BALLARD is also a qualified WEBMASTER and SEO writer to help package your electronic media for release.
G. BALLARD Studio provides high-end Mac Pro workstations with 30-inch hardware-calibrated Apple monitors and Final Cut Studio, Final Cut Pro, DVD Studio Pro and Adobe Creative Suite installed, including expert technical and creative support and consulting on site to assist with your most challenging project deadlines.
G. BALLARD also maintains wide format Epson® inkjet printers, as well as Adobe® based design services, including InDesign®, Illustrator®, Acrobat Pro®.
BASIC DIGITAL VIDEO PRODUCTION
Gary G. Ballard started his photography training in the U.S. Navy as a still and motion-picture trained combat photographer, and air crewman fully qualified to fly in military attack jets and helicopters.
If your project calls for basic video production, digital editing, video for Web publishing or finished Movie DVD (SD or HDV), please see DVD authoring REELS portfolio.
SONY video equipment,
Sennheiser wireless miked sound,
digital nonlinear video editing, Final Cut Studio work stations..